3
iSpring Challenge: Create a Word Cloud and Win the Tool You Need!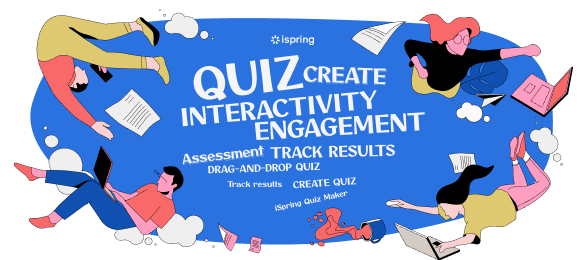 Hey there, iSpringers!
Here's our new challenge – a chance for you to get the tool you need the most for your eLearning projects! Participate to win a one-year subscription to iSpring Presenter, iSpring QuizMaker, iSpring Converter Pro, iSpring Cam Pro, or iSpring Flip. The winners will be selected randomly.
Dates
You can participate in this challenge until December 1, 2022. The winners will be announced on December 6, 2022.
Prizes
3 randomly selected winners will each receive a 1-year subscription to the tool they picked.
Tools
iSpring Presenter. A PPT-based authoring tool for creating interactive courses with quizzes and video narrations quickly and easily. No pro knowledge or skills are required.
iSpring QuizMaker. A world-renowned tool for creating interactive quizzes, tests, and surveys with automatic feedback, advanced parameters, and online learner tracking results.
iSpring Converter Pro. The world's best PowerPoint to HTML5, MP4, and SCORM converter for publishing presentations to the Web, mobile formats, and an LMS.
iSpring Cam Pro. An easy-to-use screen recorder with a built-in video editor for creating top-notch training videos with annotations, visual hints, and transition effects.
iSpring Flip. A hassle-free way to turn your documents into actual shareable books with a page-turning effect. Upload them to an LMS, and keep track of what learners are reading and how far they have progressed.
How to participate
1. Pick a tool from those mentioned above
2. Create a word cloud that includes at least 15 words (feature names, product descriptions, use cases – anything related to the tool you chose). You can use any appropriate tool. Here are some free suggestions: https://wordart.com/create, https://www.wordclouds.com, https://www.freewordcloudgenerator.com.                     
Please note: Your word cloud should represent the tool features you value most. For example, if you like the fact that iSpring QuizMaker enables you to create multiple question types, add the phrase "14 question types" to your word cloud.
3. Post your word cloud in the comment section below this post until Dec 1, 2022.
4. Share your word cloud on one of the following social media platforms.* Name the tool you want to win and write why you need it (for example, "I want to win iSpring Cam Pro to make captivating training videos for my learners") and tag iSpring Solutions.
5. Cross your fingers and wait for the results!
---
* Use iSpring's official social media pages:
By participating in this challenge, you agree to these Terms & Conditions.
---
If you have any questions, feel free to ask them in the comment section below!
Hi there,

This is my word cloud image. Hope to be one of the winners!

Thanks iSpring for this oportunity!

- Dimitry

Hi all,

This is my word cloud image.

Thanks, Karen

Hi all,

I'd like to get iSpring Cam Pro license. Here is my word cloud image.

Thank you!